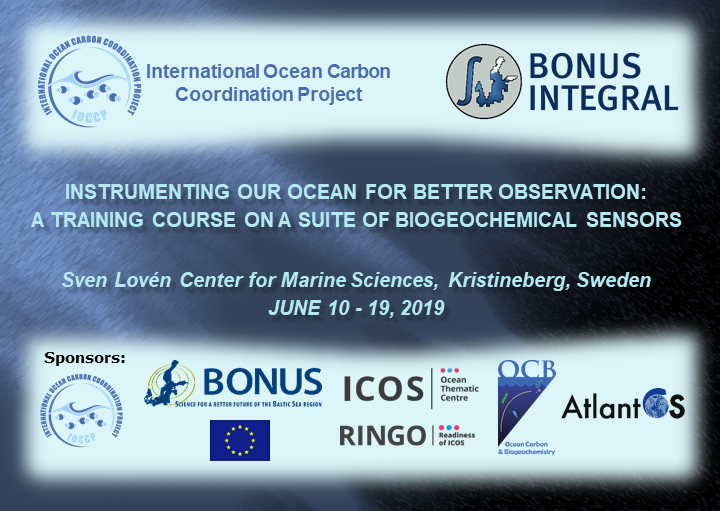 Building on the success of the 2015 training course, the International Ocean Carbon Coordination Project (IOCCP) and EU BONUS INTEGRAL Project (Integrated carboN and TracE Gas monitoRing for the bALtic sea) have organized a 10-day international training course on "Instrumenting our ocean for better observation:a training course on a suite of biogeochemical sensors." The course was held on June 10-19, 2019 at the Sven Lovén Center for Marine Sciences, in Kristineberg, Sweden. This course responded to the growing demand of the global ocean observing system and the marine biogeochemistry community for expanding the correct usage and generation of information from a suite of autonomous biogeochemical sensors.
The goal of the course was to train the new generation of marine biogeochemists in the use of a suite of biogeochemical sensors and to assure the best possible quality of the data produced. The workshop was limited to a total of 28 participants at an early career researcher level selected through a competitive process. This intensive training course provided trainees with lectures and hands-on field and laboratory experience with sensors (deployment, interfacing, troubleshooting and calibration), and provided in-depth knowledge on data reduction and quality control as well as data management. This course also offered an overview on the use of remote sensing, modelling and intelligent data extrapolation techniques.
Based on the course proceedings, and in collaboration with the Ocean Teacher Global Academy, we have prepared an online version of this course in an attempt to meet the overwhelming demand for such training opportunities. Here we provide a comprehensive set of training materials divided into a number of topics. The course materials include video recorded lectures and/or lecture slideshows in PDF supplemented with links and references to various materials such as manuals, guides and best practices. The course is open to all and is meant to expand the impact of the sensors training beyond the initial group of 28 that we could invite to Kristineberg in June 2019.